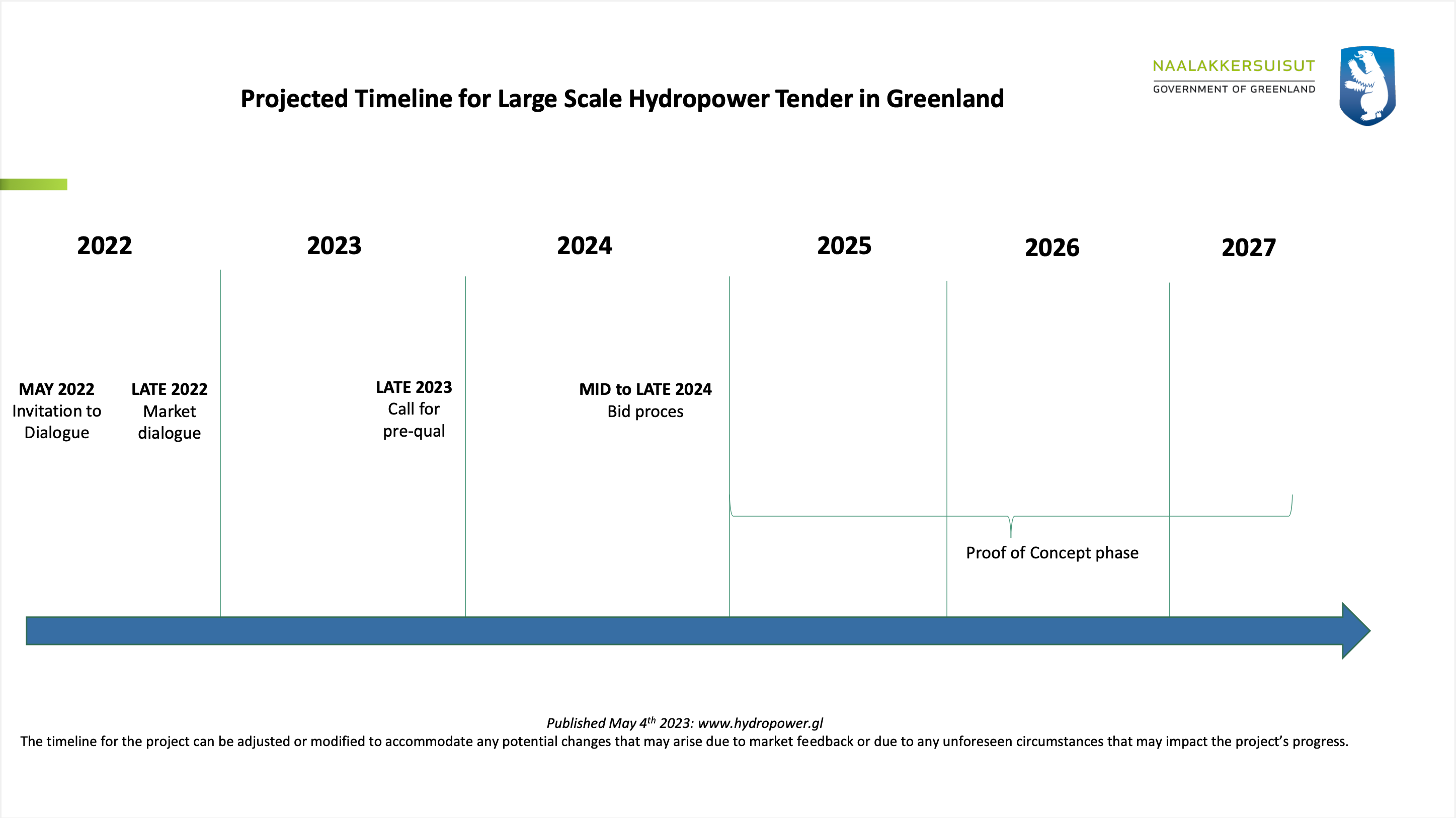 The tendering and licencing procedure for the exploitation of hydropower in Greenland for the production of electricity for industry or a commercial project is presented in the "Invitation to Dialogue".
From a Greenlandic perspective, the attraction of investors to the largest hydropower resources is expected to create value for Greenland from, e.g., new high skilled and blue-collar jobs and an additional new income stream for the treasury from royalties and taxes in relation to the hydropower resources and the off-take industry project.

Greenland's approach and understanding of sustainability are rooted in the triple bottom line approach. To be truly sustainable, we need to implement policies that balance the social, environmental and economic dimensions of sustainability.


Initial Market dialogue: September – November 2022
The Government of Greenland is thanking all participants who took part in the initial market dialogue on Greenland's large hydropower tender, which took place from 1st September to 31st December 2022.

The Government of Greenland highly appreciates the thorough work of each individual company or group of companies, as well as the additional comments and respectful manner in which the meetings were conducted.

The anonymous Q&A's preliminarily address the general issues and insights that emerged across the individual dialogues, with the Government of Greenland responding to topics and issues raised by more than one company/group of companies.

Anonymous Q&As from the initial market dialogue

The Government of Greenland invites investors to an initial market dialogue from September – November 2022.
To facilitate this interaction, the Government of Greenland has prepared a questionnaire, which covers the topics that will be subject to dialogue. Interested investors are encouraged to prepare comments and feedback on the expected pre-qualification, tender and license terms.
The questionnaire and appendices can be downloaded here:

Interested investors are encouraged to request a meeting to engage in dialogue about the content of the questionnaire by contacting Ane Wraae Nielsen at AWNI@nanoq.gl.

The dialogue will be carried out via digital or in person meetings in either Nuuk or Copenhagen. Meetings will be attended by officials in charge of the tender process from the Government of Greenland and be treated with full confidentiality.
Prior to the meeting(s), investors must submit a written communication outlining what they wish to engage in dialogue about, preferably using the questionnaire. This document must be received no later than 5 working days before the meeting.
The Government of Greenland is committed to equal treatment of all interested investors. All questions will receive a written reply following elaborative discussions during meetings. Replies with a general relevance will be published in anonymous and non-identifiable form on this website at the end of the dialogue period.
The tendering and licencing procedure was announced at the World Hydrogen Summit in Rotterdam on 10 May 2022 by the Minister of Agriculture, Self-Sufficiency, Energy and Environment Kalistat Lund in a keynote speech. Read the speech here
Prospecting licence
Investors carrying out prospecting activities in relation to hydropower in Greenland – also in relation to this tender process – will have to apply for and be granted a "Non-exclusive licence for prospecting for hydropower resources for production of electricity"

Hydropower application guide for prospceting activities

Potential investors are welcome to contact the "energy section" in the Ministry for Agriculture, Self-Sufficiency, Energy and Environment:

Email: pan@nanoq.gl or awni@nanoq.gl

Phone: +299 34 50 00 or +299 34 56 59

Shape files for the areas reserved for competition
"Shape Files Areas Reserved for competition"

For a map-based showing, please visit: kort.nunagis.gl (ticking of 'Erhverv, Vandkraft, Forundersøgelsestilladelse')

Hydropower potentials to be subject to competition